Art Exhibit - "Righting a Wrong: Japanese Americans and World War II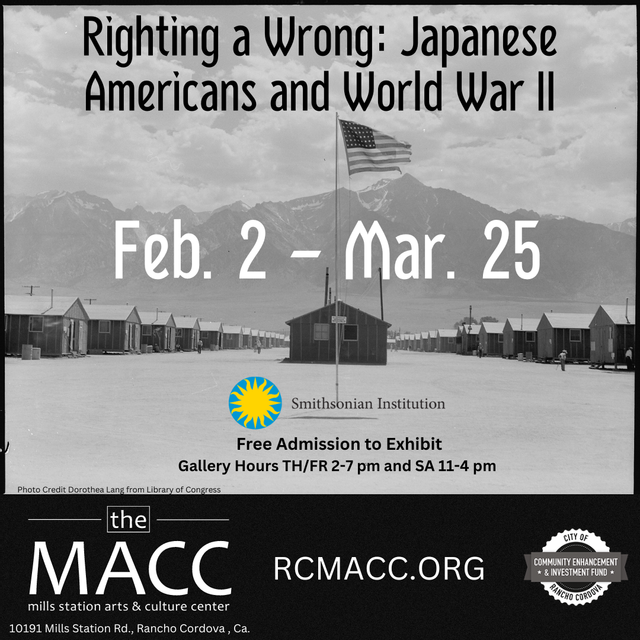 Description
After Japan attacked Pearl Harbor on December 7, 1941, and the United States entered a war in Europe and the Pacific, the nation was overcome by shock, anger, and fear—a fear exaggerated by long-standing prejudice against Asians. In response, President Franklin Roosevelt signed Executive Order 9066. This order sent 75,000 Americans of Japanese ancestry and 45,000 Japanese nationals to incarceration centers. Righting a Wrong: Japanese Americans and World War II traces the story of this incarceration and the people who survived it. Young and old lived crowded together in hastily built camps, endured poor living conditions, and were under the constant watch of military guards for two and a half years. Meanwhile, brave Japanese American men risked their lives fighting for the United States. Some 40 years later, members of the Japanese American community led the nation to confront the wrong it had done—and urged Congress to make it right. This important new traveling exhibition from the Smithsonian's National Museum of American History will bring heart-wrenching personal stories, fascinating documents, stunning photographs, and engaging interactives to audiences across the nation. Embracing themes that are as relevant today as they were 75 years ago, the exhibition takes a deep look at immigration, prejudice, civil rights, heroism, and what it means to be an American.
Mills Station Arts and Culture Center (The MACC)
10191 Mills Station Road , Rancho Cordova , CA 95827
2:00 PM PST
to 7:00 PM PDT
Private:No
RSVP Required:No
Accept Registration Online:No
Other Upcoming Instances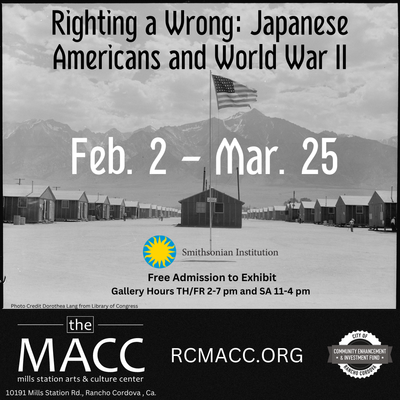 Art Exhibit - "Righting a Wrong: Japanese Americans and ...
10191 Mills Station Road
Rancho Cordova , CA 95827